Missouri Trout Fishing
My personal experience with Trout fishing has come from fishing certain areas of the Ozarks. More specifically the White River below Beaver Dam in Northwest Arkansas, the Little Piney and Current rivers in Missouri, and of course the ever present Trout Parks in Missouri. I have fished Meremac Springs outside of St. James, Montauk near Licking, and Bennett Springs near Lebanon.
First and Foremost, let me state that I have no respect or use for people that purposely violate ANY conservation laws and\or litter our fishing areas. Fishing is a resource that should be available to everyone and following the rules will keep it that way. Look at the Missouri Conservation Fishing Page &nbspIf you brought it with you, take it home with you or place it in a trash bin. Believe it or not an empty can or candy wrapper weighs much less and can take up much less space than a full one. If you strip line from your reel, take the time to wrap it up and put it in your pocket. This keeps wild life from becoming entangled and possibly harmed or killed from the line.
Trout Parks:
Missouri Fishing License Prices
To fish in the Trout parks you have to purchase a daily trout tag, $3.00 currently (2000). This tag is only good for one day and must be displayed, in easy view, at all times. This tag is purchased in addition to the normal fishing license. An out of state fishing license is $35.00, this year (2000). There is a daily limit of five (5) fish, the total number of trout you can possess is ten (10).
Every person fishing must have a separate stringer. This stringer should be labeled with the owner's name and address. Once a fish is put on the stringer - DO NOT remove the fish from the stringer and release it. If you are practicing catch and release, release the fish with the smallest possible human contact. Also use barbless hooks or hooks with the barb crimped if you are practicing catch and release. This makes the whole process less stressful on the fish and easier on you. So the fish has a higher survival rate - they can get bigger and you can spend more time fishing.
Trout Parks offer good fishing and the chance to catch a "Lunker". Eventhough the Parks are stocked daily it still takes patience and practice to consistently catch a good stringer of fish. I normally fish using a lightweight spinning reel on a 5' ultra-light rod. The reel is spooled with 2lb test premium line, don't skimp on the lightweight lines, the money saved won't replace the fish that you might lose. I usually throw small plastic worms on a number 10 or 12 hook, with the barb crimped, and with one (1) - 1/32oz split shot for weight. I will normally cast above a likely spot, pool or other fish holding area. Then let the worm float with the current, keeping the slack line to a minimum, until the worm reaches the desired depth and or location. Once the bait is in the proper place I will try different techniques to entice the trout to hit. If worming does not work, I will try throwing small jigs or other artificial baits.
Meramec Springs: While this is not my personal favorite, it is nice park located south of St. James Missouri. This park not only provides good fishing, there are historical markers, displays, a museum, and of course normal park amenities, play grounds and such. View Park Diagram The major cost difference, about this park is that everyone has to pay a parking fee. Of the three parks that I have fished I think that this is the smallest of the three and the easiest to get to, so it is usually more crowded. If you are travelling I-44 take the St. James Exit, yes there is only one. Then follow the signs - it is that easy to find.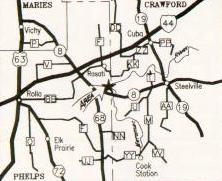 Bennett Springs: This is my second choice when it comes to Trout Parks. This Park seems to be much larger than Meramec, the size of the fishing area that is. View Park Diagram This park is little more oriented towards Fly-Fishing, but it is still a good place to fish. This park is separated into different zones, in each of these zones only certain types of lures and baits can be used. It is pretty well marked so pay attention to where you are fishing and you shouldn't have any problems. The park is located west of Lebanon Missouri. If you are travelling I-44 take the second Lebanon exit then follow the signs.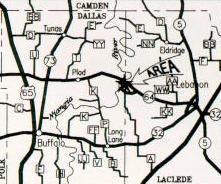 Montauk: Last but not least, my favorite Trout park. This park provides the largest "any bait" fishing area of the three parks. Also it offers a much longer stretch of water to fish and when the park ends, you will be fishing the Current river, which is probably some of the best Trout water in Missouri. View Park Diagram The park is located south of Licking Missouri. This one is a little more difficult to get to, from I-44 (south bound) take the second Rolla exit, turn left onto Hwy 63 south, (north bound) take the third Rolla exit, and turn right on to Hwy 63 south. Then follow 63 south into Licking. When you get to Licking make a left turn at the intersection of 63 and 32, then go to a 4 way stop and make a right onto Hwy 137. Take Hwy 137 through Licking then follow the signs. {This is shown by the Blue Path on the Map} If you are coming from Salem Missouri follow Hwy 32 South to Hwy 119 then follow Hwy 119 to the park. {This is shown by the green path}